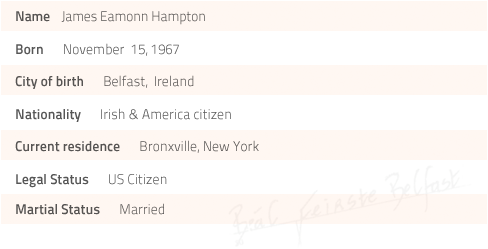 Proudest Achievements
Never having a sick day in my career, thanks to a strong work ethic derived from working on an old school irish farm at an early age.

Ranking in Northern Irelands top 10 in the standard and advanced level art exams despite doing the courses in 1 year instead of the standard 2. In addition getting an art piece selected on the local TV news.
Making a change wherever I work. Within 12 months of my new corporate ID and marketing communications efforts with Artisan crystal, sales had increased by 300%. Court TV Online increased its audience by 400% with a new design and architecture.
Embarrassing moments
As a young Boy Scout, having to hike through mountains and forests with a shiny leather suitcase, as my stubborn father wouldn't buy me a rucksack.
Days later - the Scout Troop leader asked me to hike to the river, get a pot of water (for potatoes for dinner) and put it on the fire.
Sadly I took him literally and extinguished our glowing fire, forcing the troop to starve for an extra 2 hours as we re-kindled and tried again. I left the scouts 3 months latter, emotionally scared and carrying a hatred for all things in shiny leather.
Big Regrets
Cursing a barrage of non scouting abuse at the gray-haired gentleman who passed comment on my shiny suitcase as I hiked past him.
At 18, I had the opportunity to go to Coventry in England to do a degree in transportation design (the only place in the UK) but instead remained in Belfast to study graphic design, so I could be closer to family and friends.
Top Film
Senna (2010) - the award winning documentary on Brazilian Formula One racing driver Ayrton Senna
Top TV
The Wire - The unmatched portrayal of urban decay, crafted in multiple dimensional layers. TV perfection.
Top Read
The Confessions of An Advertising Man by David Ogilvy, inspiring reading for a 15 year old.
Top Tech
The Red Scarlet, the revolution is truly here and the game is forever changed.